BC3 Disc Golf is open year round, so come out and enjoy!!
Players can now watch fly through videos of each hole of the course, including red tees, blue tees, and both A & B basket positions. Many thanks to BC3 Disc Golf member Luke Jones for compiling and editing all of these videos. Please give us feedback on these!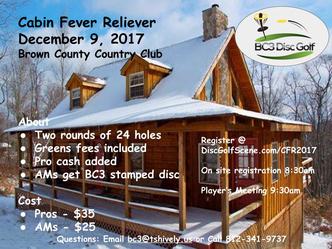 Congratulations to all of the winners at our recent Cabin Fever Reliever @BC3 disc golf tournament. 32 players battled the cold, snow, and each other to claim victory on the demanding BC3 Disc Golf course.

On the Pro side, Andrew Cornwell shot a course record 67 on his way to the Open win! And our course designer. Jerry Suiter, claimed victory in the Masters division.

On the Amateur side, Dale Sapp took to the trophy in the Advanced division. And local Brent Dodson took first place in Intermediate division, while another local, Phil Simms took first place in Recreational division. Finally, another local, Shanda Reeves, took first in the Women's division.
---
BC3 Disc Golf Info
Reservations are not required, but please check our schedule to make sure you are aware of our tournaments or other special events that may close one or more holes.
The new disc course design on the old traditional golf course features dramatic views, manicured grass, wooded hills, wildlife, ponds, and elevation changes everywhere! Check out the galleries for some pictures.
​
​Activities at the club currently include open to the public play, weekly league play for all players, free lessons for beginners/visitors, disc rental for beginners, several tournaments for serious players of all levels, and fundraisers. See the Event List below for schedule.
Current Prices:
Greens fee $8/day ($4/day for kids, seniors, active military)
Annual Membership $75 (BCDA members upgrade for $50)
​Disc rental $5/day (3 disc set)
Private Lessons $30/hr
Groups of 5 or larger get $2 off regular, daily greens fees!
Please pay at the dropbox located at the north end of the parking lot next to the #1 Red tee. Or, you can send greens fee via PayPal using our email bc3@tshively.us. Clubhouse & pro shop are normally open on weekends.
BCDA Memberships are good for activities and events sponsored by the Brown County Discgolf Alliance. BCDA members may upgrade to a regular annual membership for $50.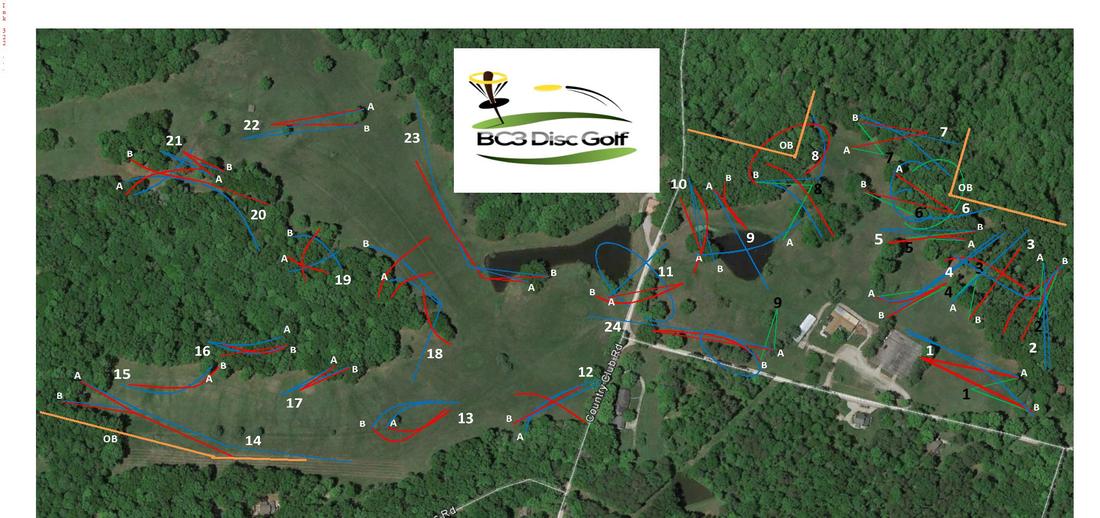 The gorgeous, 24 hole course features challenges for everyone: long, curvy fairways; short, tight wooded fairways; 5 water risk holes; and many combination holes. Experienced players: this is must-play course! Course has Innova DiscCatcher Pro permanent baskets with 2 or more pin placements each hole, mowed and/or cleared fairways and a mix of gravel & natural tee pads.
The beginners loop features open, short shots with very few obstacles so new players can practice their skills before tackling the 24-hole course. Rental discs and lessons are available, too. Disc golf is a great outdoor family-oriented activity: our youngest members are just 3 years old! Come visit us and find out how to play disc golf in beautiful Brown County!
Holes are marked at both red & blue tees markers with the hole number and distances to A & B baskets. Paths are lined or mowed to help guide new players on the course. Bridges are in place to traverse most ravines. New "next tee" arrow markers are being put into the ground near each basket. Course development goals this year include permanent signs at all holes, level tee pads with packed gravel or concrete on each red & blue tee, and development of additional benches and bridges.
This course has every challenge pros, advanced, and recreational players want in a gorgeous country setting in Brown County. Check out the
DGCR review
.
Maps and scorecards are available online (below, pdga.com, dgcoursereview.com), and at the clubhouse on site.


BC3 Disc Golf is a founding member of the Brown County Discgolf Alliance (BCDA). BCDA promotes disc golf in the Brown County Indiana area, and BC3 Disc Golf is an active member. Check out the
BCDA Facebook
page.
Contact Us
for more information, or just come out and play. We are passionate about sharing our disc golf course with players and helping beginners get into the game @ BC3 Disc Golf!